Hello Again
This is the last post I made before my old blog got eaten…
Hello Again
I have been busy lately playing with my dolls. I decided I wanted to display my vintage clothes on as many vintage dolls as I have.
Mind you vintage to me means pre 1980. Though some of the 1980 fashions are fun and I do like them. I like the more classic look.


Like this. Suburban shopper. I do not have the original shoes or basket but I have other things I can use to have fun with this out fit…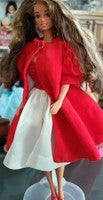 I love this Silken Flame set. It is after all RED and that is my favorite color. I have another of the coat, and have the original shoes. In an effort not to lose those I chose these from my stash of Barbie shoes. I myself do not like shoes and have minimal pair (Sandals, 3 pair, sneakers 3 pair and swim shoes) I do however have enough for a well stocked Barbie shoe store…
This blue set with hat reminds me of a fun day out with friends. It is classic and could also go to work if needed.
Then my favorite doll of all. The 1974 Sweet 16 Barbie. I always buy this one when I can afford to. I have 3 but one is in the box still, 1 is in pieces (came missing 1 arm and the other won't stay in) and this one. I need another one to be able to dress her up in different things.

Then we come to the fun, Friday Night Date Night outfit. I have the tray it comes with but not the drinks. Though I do have others I can substitute.
This is row 1. I will write up the dolls in row 2 next time!
Stay safe and Barbie on!
Hugs y'all